Publications
Settling down permanently in England and having access to a wide range of resources, such as museums, libraries and scholars, was a good opportunity for Houshang Mahboubian not only to continue to manage his gallery but also to complete his studies and research in the field of ancient Iranian art; the result of which was the publication of the following books, which can be found in many of the important International museums and prominent university libraries across the world (click here to read comments about Houshang's publications from world class museums and universities).
Treasure of the Mountains: The Art of the Medes
London: Mahboubian Gallery 1995.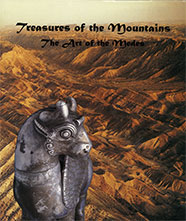 Houshang's first publication illustrates a collection of eighteen pieces of silver objects from the Median period that were recovered through the efforts of his father Dr. Benjamin Mahboubian, during one of his excavations in western Iran, and have been kept in his private collection in Switzerland and France since 1934. A version of this book was completed and printed in 1978 in Iran.
Art of Ancient Iran: Copper and Bronze
London: Philip Wilson Publishers, 1997.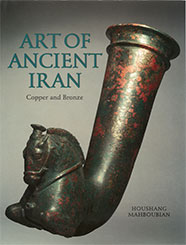 Houshang's second book presents over 404 lots (more than 500 pieces); largely unpublished pieces of ancient copper and bronze art from Elam, Luristan, Amlash, Kaluraz, and Urartu; and from the Achaemenid, Parthian, and Sassanian periods, dating from 3000 BC to 700 AD.
The Art of the Medes
Second Edition, London: Philip Wilson Publishers, 2002.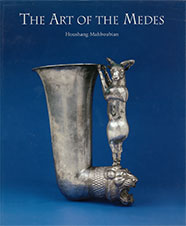 This is a revised and expanded version of Houshang's book entitled Treasures of the Mountains: The Art of the Medes, containing much new research on Median art by the author. It presents 54 lots of silver pieces.
ELAM: Art and Civilisation of Ancient Iran 3000 – 2000 BC
London, Mahboubian Gallery, 2004.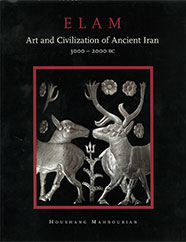 Houshang's most recent book is the result of new research on a major, previously unpublished collection of fourteen Elamite silver objects, dating from 3000 - 2000 BC. In this book, the author discusses the civilisation (religion, script, language and art) of the people whom we know as Elamites, and analyses the iconography of their art by examining each object in depth.
Since 2004 Houshang Mahboubian provides consultancy for museums and antiquities collectors. Moreover, being in possession of a unique and important collection of proto-Elamite engraved silver pieces – complete or fragments – Houshang together with the assistance of scholars and enthusiasts of this field endeavour to pioneer the deciphering of this language (the oldest known writing system from Iran used briefly 3000 BC; see some images from the H. Mahboubian collection below). In this regard, it must be mentioned that some scholars have already attempted to decipher both scripts, most notably Walther Hinz and Piero Meriggi but unfortunately have not succeeded. H. Mahboubian would like to invite those who are interested in Elamite language to contact him for cooperation.